I actually made this a couple weeks ago and keep forgetting to post it. Well at least I am now. Right? Do you remember the burlap curtains I made for my kitchen? If not go
HERE.
I made a roman shade-ish curtain for the small window in my kitchen. It was a craft fail. It looked alright in the picture, but in person it just drove me nuts. SO I made a cute little ruffle valance that was super easy to make.
Said curtain before in burlap:
I took some left over drop cloth I had from my
drop cloth curtains
in my living room and measured the width of the window and added 4 inches. Then I measured 1/3 of the height of the window and added 5 inches.
I cut two strips of fabric the 1.5 times the width of the curtain and 12inches thick.
I made a top pocket for the main curtain part by folding over 3 inches
I then hemmed the two strips of fabric I cut
Then ruffle the fabric by sewing a loose straight stitch (I put my setting on 5 length) then gather the fabric together by pulling the top stitch. Now attach first ruffle right below the pocket you made:
Ruffle the second strip of fabric and attach under the top ruffle. Make sure the top ruffle just covers the top of the second ruffle
Now you have a perfect little ruffle valance
I then added this:
The shelving is the same I did in my living room
HERE
. I still need to caulk and paint them. That will be this weekends project! Also, need to change up the decorations. Think I will do all cream like I did on my living room shelves.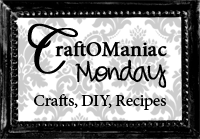 <