If you missed it on Saturday I did a
guest post
on Three Boys. Go ahead and check Sarah out. She is a really sweet blogger and has amazing ideas.
On with the goods. I bought this lovely table on Craigslist for a whole 20 dollars ummmm about two months ago. It has been collecting dust in my garage (along with some other furniture waiting for me, I may or may not have a furniture hoarding problem). When Sarah asked if I could have a post done by Saturday, it was just the motivation this girl needed. So thank you again for that! I owe you ;)
Here she is all oaky and orangey (are those words?). Isn't she just beautiful!? Yeah I don't think so either. She was pleading for a makeover.
Let the table dry, almost. Like there may be a couple sticky parts. Trust me. Now sand down the edges
As you are wiping some of the cream paint will come off in places. That's good! It will give you a nice chippy paint look.
Michelle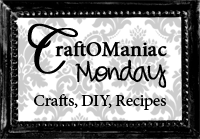 <