I have been MIA this week a bit. Sorry about that. I have had horrible allergies and have not wanted to do much. Feeling so much better today. Thanks for asking! I have also been working on my One Month to Win it project. I can't tell you what it is either. Darn! It's part of the rules. Annonymous voting. I am pretty confident you will all LOVE it though. Voting starts next week. I will keep you all informed, of course. Also, be sure to check me out at the
DIY Showoff today
. My bathroom is being featured. Yay!
Alrighty then! On with the post, shall we? I bought this table for a whole $20 dollars at Goodwill. It was actually a lot more work than I hoped it to be, BUT I have it sold already and she isn't even done drying. Awesomeness!
I know, I know, you are SUPER jealous of its orange oakey fabulousness right here. You're asking, Why would you every want to change a thing about it?! Well sorry to disappoint, but I did.
Michelle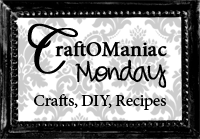 <