Dear Texas,
It's september, like the middle of September. Did you know that? As much as I have enjoyed 105 degrees everyday with zero wind and 100% humidity, I really am ready for something slightly cooler. I am not even asking for something crazy like 70, but anything under 90 would be pretty nice. Maybe my fall mantle will entice you. It is definitely making me yearn for my skinny jeans and some boots. Please let me change up my wardrobe soon!
I was at the dollar store yesterday and they have a ton of cute fall and halloween decor. See even the dollar store knows its time to cool down. I threw this together and even made a bunting with some scrap fabric and ribbon I already had, Bonus!
See isn't that nice. Doesn't that make you want to go outside and breath in some crisp air while drinking warm apple cider?
Items from the Dollar Store:
Black Crows
Orange leaf garland
Orange Leaf bushes
Orange Leaves
Small white pumpkin
Sincerely
Michelle
Ps Tutorial on no sew bunting to come tomorrow. Also going to add Happy Halloween to bunting which will be removable so I can later put on Merry Christmas. Did you know they were the same amount of letters!? Cool stuff.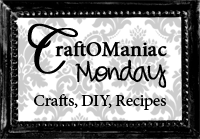 <